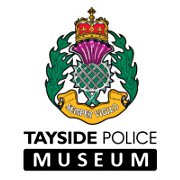 It was with much regret that we can confirm that Tayside Police Museum Kirriemuir will not be open to visitors for the remainder of 2021. There are several reasons for this and it is not just as a consequence of the pandemic.
Our hope is to open the museum at the Easter Weekend in 2022, but we will have to recruit a few more volunteers in order to match the hours of opening that we achieved from 2016 onwards. No specialist knowledge or training is needed, neither is it a requirement that you are a retired police officer, and it need not be a significant time commitment. Just a few hours a month from April through to September. So if you are in a position to help us open again, just message the museum page.
Updates will be posted here.

The Tayside Police Museum, located in the same building as the existing Police Station in Reform Street, Kirriemuir, charts the history of policing in the city of Dundee, and the counties of Perth & Kinross and Angus, from the early 1800s through to the present day.
The museum is located entirely on the ground floor, and comprises of 6 rooms in which visitors will be able to view permanent displays of Uniform, Batons, Handcuffs, Awards & Medals, Cameras, Weaponry, and so much more.
Tayside Police Museum is pleased to announce that "The Airlie Bobby", a collection of memories of Dave Grimmond, an Angus Bobby from 1950 to 1975 in Carnoustie, Airlie, Kirriemuir, and the surrounding areas, is now available.
Copies of "The Airlie Bobby" can be obtained in person from Kirrie Connections, 29 Roods, Kirriemuir, at a cost of £5 per copy. Please email info@kirrieconnections.com to arrange a time for collection.
Alternatively, copies can be obtained by sending a cheque for £8.40 (UK only), made out to Robin Grimmond, c/o Kirrie Connections, 29 Roods, Kirriemuir DD8 4HN.
If anyone outwith the UK would like a copy, please email Robin at robin.grimmond3@gmail.com and he will advise of postage costs.
All proceeds go to Kirrie Connections, a dementia friendly hub.
Opening Times (please click): Not Applicable during closure!