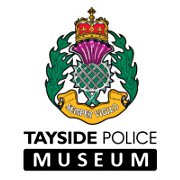 The volunteers at TPM are pleased to announce that we are going to open our door to visitors from 11am on Thursday 7th April. Initially this will be on a trial basis, as we have to pay due regard to the health and safety of both visitors and volunteers, so numbers allowed entry at any one time will be on a limited basis.
The length of any tour will be approximately 30 minutes, with only one family group (up to 6 in total) allowed entry at any one time. We will do our best to accomodate passer-by / drop in type visits, although potential visitors will have to bear with us until we all get used to these new procedures.
We intend to open every Thursday, Friday, and Saturday from 11am until 3pm each day, with a review at the end of each month. Initially there will be a requirement to wear masks, with the exception of children aged 12 or under.
Group visits can still be arranged in advance by emailing curator@taysidepolicemuseum.org.uk.
The Tayside Police Museum, located in the same building as the existing Police Station in Reform Street, Kirriemuir, charts the history of policing in the city of Dundee, and the counties of Perth & Kinross and Angus, from the early 1800s through to the present day.
The museum is located entirely on the ground floor, and comprises of 6 rooms in which visitors will be able to view permanent displays of Uniform, Batons, Handcuffs, Awards & Medals, Cameras, Weaponry, and so much more.
Tayside Police Museum is pleased to announce that "The Airlie Bobby", a collection of memories of Dave Grimmond, an Angus Bobby from 1950 to 1975 in Carnoustie, Airlie, Kirriemuir, and the surrounding areas, is now available.
Copies of "The Airlie Bobby" can be obtained in person from Kirrie Connections, 29 Roods, Kirriemuir, at a cost of £5 per copy. Please email info@kirrieconnections.com to arrange a time for collection.
Alternatively, copies can be obtained by sending a cheque for £8.40 (UK only), made out to Robin Grimmond, c/o Kirrie Connections, 29 Roods, Kirriemuir DD8 4HN.
If anyone outwith the UK would like a copy, please email Robin at robin.grimmond3@gmail.com and he will advise of postage costs.
All proceeds go to Kirrie Connections, a dementia friendly hub.