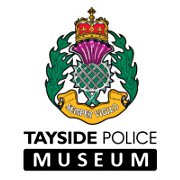 Hello everyone. We're posting this message to let you know that the Tayside Police Museum Kirriemuir has closed for the 2017 season and will re-open at the beginning of the Easter School Holidays next April.
During this 'closed' period we will still be able to accomodate pre-arranged group visits which can be instigated by accessing our website, taysidepolicemuseum.org.uk and emailing us a contact form. There is no lower limit on the numbers, so please feel free to contact us even if you're looking for a way to entertain / amuse family and friends visiting with you over the festive period.
The volunteers would like to take this opportunity to thank the hundreds of you who visited the TPM in 2017, and for the glowing feedback and recommendations many of you have posted on TripAdvisor and Facebook, as well as those written in our Visitors Book. Also, even though entry to the museum is free, the generous donations received from visitors and the local community will allow us to make some improvements to the museum prior to the official 2018 opening.
And finally, we are always looking to recruit volunteers in order to keep the museum open to the public, so please get in contact with us if you feel you could help. No Policing experience necessary!
The Tayside Police Museum, located in the same building as the existing Police Station in Reform Street, Kirriemuir, charts the history of policing in the city of Dundee, and the counties of Perth & Kinross and Angus, from the early 1800s through to the present day.
The museum is located entirely on the ground floor, and comprises of 6 rooms in which visitors will be able to view permanent displays of Uniform, Batons, Handcuffs, Awards & Medals, Cameras, Weaponry, and so much more.